Debbie Bliss Rialto DK Print's self-striping knitting yarn blends colourways to create fabulous multi-colour as you knit.
Rialto DK Prints is made from beautiful soft superfine merino. Perfect for children, but also a nice treat for yourself.

LIMITED STOCK AVAILABLE DISCOUNTED PRICE $10.15
:
100% Wool
Needles: 4.00mm(US6)
50g (1.75oz)
Yarn Length: 105m (114 yds)
Tension: 22 stitches, 30 rows to 10cm/4"
RIALTO PRINT DK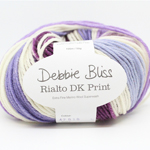 Rialto DK Print 10 Lavender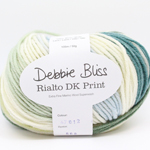 Rialto DK Print 12 Picnic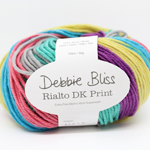 Rialto DK Print 13 Circus