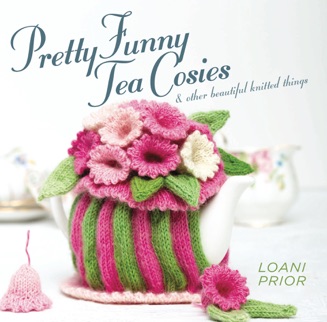 Pretty Funny Tea Cosies
SKU:
The Queen of the Tea Cosies is back to show knitters how to turn the conventional tea cosy into a piece of art
Loani Prior, tea cosy knitter extraordinaire, is back with more of her fabulously outrageous creations. This book contains 25 knitted cosies and other pretty things, with the focus on the pretty: flowers, leaves, fruit, loopy stitches, and beautifully knitted and woven fabric. Including basic stitches, techniques, and patterns, this collection is a must-have for knitters and crafters and anyone who has ever wanted to have a Japanese Doll tea cosy or Tibetan Tea Warrior tea cosy. Other projects include fancy coat hanger covers, Tutti Frutti Ears ("Please do wear any of the fruit dangling from your ears but only if you are old and eccentric and used to being seen out and about in unusual attire"), potholders, and Double Knit Neck Warmer with Woven Windows.